A tractor-trailer wreck made headlines last week in Augusta for blocking Sand Bar Ferry Road and for a small fuel leak. But there's more to the story.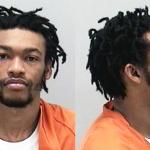 Authorities say a convicted felon was behind the wheel of the stolen vehicle, carrying a load of $300,000 in stolen medicine from Savannah. Following the wreck at 3:30 a.m. Thursday, Richmond County officers found no driver but located a license for Jarvis Kennedy of Lyons, a convicted felon with a history of drug dealing and burglary.
Kennedy soon turned up at University Hospital seeking treatment for injuries from the wreck. He initially lied about being in a white SUV, but then confessed to being in a 18-wheeler that rolled on its left side. He also admitted he didn't have a commercial driver's license or log books for the truck.
"Jarris Kennedy was lethargic and did not want to open his eyes or answer questions," a sheriff's report says.
State Public Safety officers discovered the tractor trailer was stolen from Metter, Ga., and the shipping container was taken from a company in Savannah. A loss control officer for Z Intermodal said the trailer, container and its contents were taken from their overflow lot, and it contained $300,000 worth of medications for blood pressure and asthma.
Kennedy, 29, was charged with two counts of felony theft by receiving stolen property, too fast for conditions, expired tag and operating a commercial motor vehicle without a license.