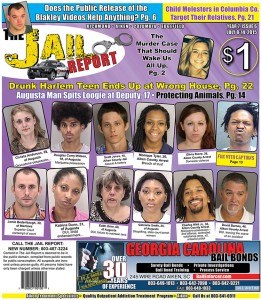 A Harlem teen was charged Sunday with public drunkenness after he knocked on the front door of a woman's home at 1:30 in the morning, according to a sheriff's report.
"I'm home!" Christopher Pendrey told the woman after she yelled for him to leave, according to a sheriff's report.
   (This is one of many stories in this week's edition of The Jail Report, in stores now. Cover: http://bit.ly/1S8Q4MM)
When deputies responded to the woman's call, they found Pendrey to be very drunk. His shirt was torn, his eyes were glassy and he had difficulty standing without help.
The teen did not know where he was or how he got there, the report says. He admitted to consuming alcohol about two hours before at a party in Grovetown.
Pendrey's breath tested positive for alcohol on a field alcosensor and he was arrested.