A Burnettown man was charged with driving under the influence after he struck and killed a man driving a moped Wednesday night on Highway 421 in Aiken County, authorities said.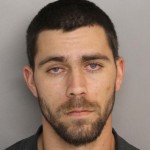 Kenneth Busbee, 23, was booked into the jail at 1 a.m. on a charge of DUI, according to jail records.
According to Coroner Tim Carlton, Kenneth Busbee was driving a 1999 Ford Mustang on Wednesday night when he struck a 2012 Yuam moped driven by 60-year-old Charles Bowick of Clearwater.
Bowick was rushed to Augusta University Medical Center's Shock Trauma Center, where he was pronounced dead from multiple body trauma at 9:53 p.m. Wednesday. Busbee was not injured.
Bowick was not wearing a helmet at the time of the crash, the coroner said.
Troopers with the S.C. Highway Patrol determined that Busbee was impaired and arrested him for DUI, jail records say. He remained in the Aiken County Detention Center on Thursday morning.
Note: We were unable to find a photo of Charles Bowick. If you have one or want to share a memory, please text it to 803-487-3224 or email it to publisher@thejailreport.com.