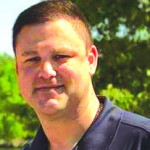 Veteran law enforcement officer Michael Raffield is challenging Edgefield County Sheriff Adell Dobey in the November election, telling residents that the current sheriff has failed to lead and lied to residents about what he would accomplish.
In an open letter to residents published on EdgefieldDaily.com, Raffield says he will be challenging Dobey in three debates between now and Nov. 8. He is not sure if the sheriff will agree to appear.
But the Republican challenger's lengthy letter contains many attacks on Democrat Sheriff Dobey, especially concerning the current sheriff's handling of the case of missing woman Tammy Kingery.
From his letter: "It will be my objective to revamp our Reserve Deputy Program by increasing the number of ready reserves, and adding another level of reserve that can aid in situations that do not involve potential violence, i.e. missing person's cases. Additionally, I would solicit volunteers to start a Reserve Horse Patrol Program because of our county's rich supply of equestrian activity and due to the geography of the county, which makes a program feasible and necessary. As your sheriff, I would task the members of the newly formed programs with assisting in locating missing persons and like incidents that require covering areas best suited by horseback, four-wheelers and foot.
   "Nothing could be more relevant to this discussion than the missing lady from the Merriweather area that occurred in July of this year. In this incident there was no communication or cooperation from law enforcement with the local Fire Department, or local community members. In this incident, citizens and the Fire Department found the lady after the Sheriff's Office failed to notify the Fire Department or continue an adequate search until the lady was located. 
   "This incident is similar to other missing person cases that were not properly supervised by the Sheriff. In times of missing persons, it is the responsibility of law enforcement's top law enforcement official to do everything within their power to safely return the missing person to their family, or in cases of tragedy, locate the victim so the family can experience closure in time. 
   "The South Carolina Law Enforcement Division, SLED, was not called in to assist with the missing lady, Tammy Kingery, until late into the investigation and because outside influences forced Sheriff Dobey to (accept) help due to his inability to solve the case. However, with any serious investigation time is of the essence and failing to use all resources and the state agency, SLED, is a complete failure in leadership. SLED continually advises Police Chiefs and Sheriffs to call them immediately when dealing with missing person so they can aid in the investigation during the initial hours of the investigation and bring in specialized equipment such as their aviation team." 
His letter also attacks Sheriff Dobey for lying about the formation of a community advistory board.
From the letter: "It is important that the community has a true voice regarding their law enforcement's culture, therefore, I will immediately form a community advisory board. I know that Sheriff Dobey previously stated in an interview that he would form a community advisory board but he did not, but I am a man of my word and will solicit membership within the first week of office. This concept is more important today than ever with the current crisis we are seeing across the nation."
Raffield has most recently  served as police chief of Ridge Spring Police Department and has previous experience working with as an officer with the North Augusta Department of Public Safety, a federal air marshal, shift supervisor at the Edgefield County Sheriff's Office and a few positions at the Saluda County Sheriff's Office.
He is married with two children who attend public school within Edgefield County.
Visit Raffield's Facebook page by CLICKING HERE.
For more crime news, pick up this week's edition of The Jail Report.