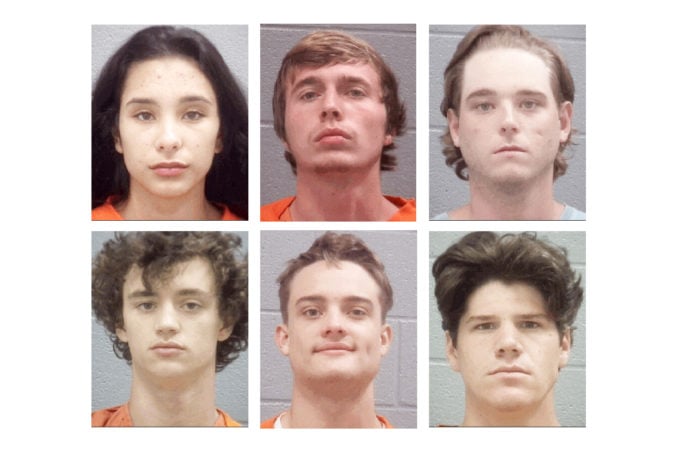 Six people went to jail Friday when an Evans teen's bizarre call for help turned up a bunch of pot, THC vape cartridges and a load of cash at her home.
Authorities say four young men were trying to rob the woman and her boyfriend of their stash, which included 1.25 pound of pot, 106 THC vape cartridges and over $4,600 in cash.
Thabata Villafane, 18, called for help Friday night, telling dispatchers that multiple suspects had just broken into the house. She said that she escaped to the roof with her boyfriend, 22-year-old Timothy Meyers.
When deputies arrived at 1302 York Street, they caught the suspects, identified as Brayden Folds, 20, Cameron Hatfield, 18, Peyton Delaney, 19, and Wyatt Patrick, 22. Each was charged with robbery.
Dulaney was caught after jumping out of the second story window. Hatfield was found in the attic after concealing himself under insulation material, a report says.
The resident's boyfriend was on the ground when officers arrived while Villafane was still on the roof. But Meyers repeatedly asked officers if he could return to the roof.
During a security sweep, a deputy found a large duffel bag still zipped up on the roof not far from the bedroom window. Officers also found drug paraphernalia all over the residence.
Authorities say the four robbery suspects had come to steal the couple's stash, which was apparently found in the duffel bag. Villafane and Meyers were each charged with two drug offenses.
For more crime news, pick up the current issue of The Jail Report, sold in local gas stations.