UPDATE: The mother of Evans High football player Kai Hoversland has commented on the story about her son, saying he was disciplined after he confessed to using the school's computer this month to add $120 to his lunchroom account.
Monica Shephard said this on Facebook: "He received more than a slap on the wrist. He has never been in trouble at school. … He did not 'hack' into the computer. He made a stupid mistake as a minor. … He wasn't charged with anything. He did wrong. He admitted it and has been paying dearly for it, especially at home."
Original Story:
An assistant principal and a sheriff's deputy let a sophomore quarterback for the Evans High football team avoid arrest last week after he hacked into the lunchroom computer and added $120 to his meal account.
Kai Hoversland, 15 (pictured), confessed to using a lunchroom lady's name and password to log into the school computer and make the change, according to a sheriff's report.
Yet, a sheriff's deputy let Assistant Principal Dr. Rodney Tyson sign a waiver of prosecution since the athlete's father agreed to pay the money back.
The school's waiver of prosecution appears to violate a "Memorandum of Understanding" signed by the school system and sheriff's office in 2013 which states, "The decision to bring criminal charges will rest solely with the Sheriff's Office." Superintendent Sandra Carraway says principals have been instructed not to sign waivers of prosecution. (See statement below.)
A report by Deputy C.A. Burnett spells out what happened:
Kai was caught on video surveillance using a staff-only computer at 7:30 p.m. last Wednesday to make a change to his account. It's unclear how he accessed the computer after school hours.
"Tyson further stated they escorted Kai up to the front office this morning and he openly admitted to them about adding the credit to his account," the sheriff's report says. "Contact was made with Kai's father (Kristopher Shepherd). He responded to the school and was advised of this incident. I read Kai his Miranda Warning and he signed the waiver form with Mr. Shepherd present."
"After signing the form, Kai admitted to me that he got the idea from his cousin and logged into the computer using Mrs. Boyer's name/password and added the money to his account. Mr. Tyson stated the school decided that if Mr. Shepherd paid the amount that was transferred, then the school would not prosecute."
Shepherd agreed and paid the money to Dr. Tyson. The school told deputies that the school would discipline Kai for his actions.  Sources tell us he has been on in-school suspension and that no decision has been made about his status on the football team.
Hoversland was among three quarterbacks competing for the No. 1 position on the team, the head coach said last month.
Sheriff's Major Steve Morris said the school system and sheriff's office made the decision together not to prosecute the teen after the father agreed to pay back the money and the school said it would discipline Hoversland.
"Together, this decision was made," he said.
Statement from Dr. Sandra Carraway, School Superintendent:

"The Columbia County School District does not condone the signing of waivers of prosecution and it is not our practice. A new assistant principal was asked (in May) to sign a waiver by the CCSO and did so. Following our hearing of this, Assistant Superintendent Penny Jackson met with all of our high school principals to reiterate our position which is as follows. We have a memorandum of understanding with the CCSO that, when we believe a crime may have been committed, we call the CCSO and turn the case over to them. It is their job to determine if a crime has been committed, and, if so, what the proper response is. It is not our place or desire to influence the CCSO's actions.
"Based on your message below,  once again, a newly-hired AP is the administrator overseeing the incident. Clearly we must revisit our training."
WHAT DO YOU THINK OF WHAT HAPPENED? Leave your comment below.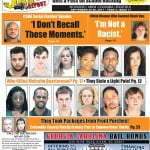 For more crimes news, pick up this week's edition of The Jail Report, sold in local gas stations for $1.50.