An Evans man got busted over the weekend for having two girlfriends when one of them came to his house while the other was there.
The resulting fight between the two girlfriends led to their arrest.
According to a sheriff's report, Darren Johnson said he and one of the women – Courtney Thomas (left picture)– had returned from a fishing trip when girlfriend Shannon Thomas (right picture, no relation) pulled up in his driveway and asked why he was with another female.
"Johnson stated that he had relations with both females and they both became upset when they discovered this," the report says.
During the fight, several bottles of liquor, some vases and a coffee table were broken in the man's house. He called deputies and responding officers found the women fighting in the front yard. Officers had to physically separate them.
Both women were arrested for disorderly conduct and taken to jail. Luckily, there were two patrol vehicles so the two girlfriends didn't have to ride together.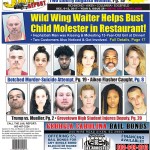 This is one of many crime stories in this week's edition of The Jail Report. Pick up your copy in local gas stations.