Authorities have arrested a man for allegedly shooting an Evans man to death early Sunday outside The Scene nightclub on Broad Street in Augusta.
Terrence Cumber, 24,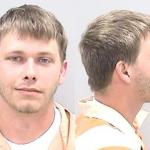 has been charged in the shooting death of 23-year-old Ahmad Popal of Evans (pictured at top).
At 1:50 a.m. Sunday, deputies were dispatched to the 1200 block of Broad Street for a shooting. Officers found Popal, who was rushed to Augusta University Medical Center, where he was pronounced dead at 2:19 a.m., authorities said. An autopsy is scheduled at the GBI Lab.
Cumber is charged with murder and weapon possession.
WGAC's Austin Rhodes posted this from his sources: "A personal beef gone bad resulted in death by gunfire late night outside The Scene nightclub on Broad Street in Augusta. Around 1:30 AM (Sunday) officers were called and discovered 23 year old Ahmed Popal of Evans mortally wounded on the sidewalk. In custody and charged with the murder is 27 year old Terrence Cumber."