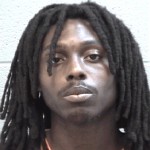 An Evans man was stabbed to death by a man shortly after they left a convenience store late Sunday, according to Columbia County authorities.
Lenell White, 24, of Evans (pictured), has been charged with murder and weapon possession in the death of 60-year-old Lavon Crawford of Evans.
Three witnesses pulled up to Washington Road at Steeplechase Lane and saw the victim on the side of the road with White standing next to him. The suspect had blood on his hands and chin.
With so much blood, they thought there had been an accident. But there was no crash or car.
"Lenell White was transported to our Sub-Station and confessed to murdering Mr. Crawford," sheriff's Maj. Steve Morris said. "(The victim) was stabbed several times in the neck."
The knife was apparently dumped 15 yards away in the woods, where deputies found it.
Maj. Morris said he was not sure about a motive. The suspect and victim were captured on video minutes before talking inside at a Circle K convenience store.
White is being held without bond.
The victim was already being remembered on Facebook by those who encountered him around town.
WGAC's Austin Rhodes called Crawford a "neighborhood character" who was often seen walking up and down Washington Rd., stopping in to the Woodbridge Circle K for coffee, or a candy bar.
"He was friendly if you caught his eye, but many times he was busy in conversation…with himself. I was never sure where he was going, but he seemed always to be heading somewhere, with a lot on his mind," Rhodes said.
Jessica Miskelly called the victim a "nice guy."
"He would read the newspaper outside of Goolby's on Sunday's and hold the door open for people. He was so polite," she said. "We would always see him walk down Washington Rd. We were leaving for vacation Friday and saw him at the Circle K drinking coffee while we got gas. We joked that 'there's our guy'. So very sad. We would see him so often that you feel like you knew him."
Note: If you have a photo of Lavon Crawford, please text it to 803-487-3224 so we can honor him.