An Evans man was arrested for abusing his wife last week after he attacked her and then forced her to sleep on the floor all night, authorities said.
Richard Crawford, 38, was charged with simple battery under the state's Family Violence Act.
This is one of many crime stories in this week's issue of The Jail Report, sold in local gas stations for $1.50. Pick up your copy today.   
The wife told authorities that Crawford is a control freak who keeps tabs on her by checking her cell phone. He routinely checks her contacts, emails, text messages and internet history, according to a sheriff's report.
Last Tuesday, Crawford couldn't find any internet history since her phone was new.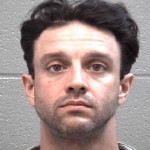 "He became irate," a sheriff's report says. "Richard came after her and began to choke her with both hands."
He then struck her several times on the head before choking her a second time. She began to feel light-headed and thought she was going to pass out before he stopped.
"Richard made her sleep on the floor the entire night," the report says.
The victim was unable to contact police until the next day since her husband took away access to her phone. A deputy observed her with a scratch to her cheek, a bruise under her right ear and two scratches to her left forearm.
Crawford was arrested last Thursday.