An Evans woman was arrested on New Year's Eve for leaving her children at home alone to go drinking, authorities said.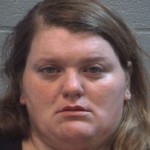 Tina Ann Simoneau, 33, was arrested at 4 a.m. Thursday when she returned home drunk behind the wheel of her green Ford Ranger, according to a sheriff's report. She was charged with two counts of child cruelty, DUI, failure to maintain lane and duty upon striking unattended vehicle.
The woman's 11-year-old daughter called the sheriff's office at two in the morning on New Year's Eve to complain that her mother had left her and her 7-year-old brother at home to go drinking and had not returned. Deputies responded to the family's home on Old Evans Road, where the daughter explained that her mother had left with friend Melissa Gotcher around 7 p.m. Wednesday to go to a bar and had not returned.
Even worse, the mother left her cell phone at home with the children, giving them no way to contact her. Authorities then began looking for Simoneau, checking with hospitals and jails without success. Dispatchers tried pinging Gotcher's phone but the last ping was around 9:30 p.m. near Carolina Ale House, the sheriff's report says.
DFACS officials were notified and had just arrived when Simoneau pulled up to the house at 4 in the morning. She was charged and taken to the Columbia County Detention Center.