A 17-year-old Evans teen attacked his father last week after he demanded his son's cell phone, according to a sheriff's report.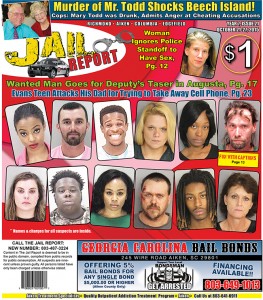 (For other crime news, pick up this week's Jail Report!)
Richard Dempsey, 17, was charged with simple battery under Georgia's Family Violence Act.
Details of the attack are spelled out in the officer's report:
The teen's father arrived home from work last Wednesday to their home on Samarya Lane and realized his son had not completed his chores. So he told the teen to hand over his cell phone.
Richard Dempsey refused and began walking down the hall.
"The father grabbed at his son's left hand which held the cell phone. His son turned and punched him in the left side of his head," the officer's report says.
The father and son then wrestled on the ground until his son was on top of him from behind.  The teen then put his 44-year-old father in a choke-hold and repeatedly punched him in the back of the head.
Questioned by deputies, the teen said that his father woke him up around 5:15 p.m. Wednesday and demanded the cell phone. He said his father tried to grab his cell phone but he walked away.
The suspect claims his father then put his finger in the teen's mouth and started pulling so he struck him, according to the sheriff's report.
Officers observed visible bruises to the father's wrists and a large raised area to the back of his head.