Who steals from a church pastor?
This guy.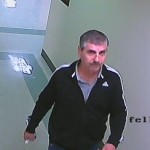 According to authorities, this guy walked into the pastor's office at Lewiston Memorial United Methodist Church during services Sunday morning and stole the minister's wallet.
These clear surveillance images show the suspect as he walks around the church, located on Hereford Farm Road in Evans. Senior Pastor Eddie Bradford told authorities that the theft occurred between 8:10 a.m.-12:30 p.m., during times when the office door was not locked.
The thief went in the office and stole the pastor's wallet from a desk drawer, a report says. According to the bank, the pastor's debit card was used the same day at a TPS convenience store for $17 and the Evans Burger King for $9.06 worth of food. Also stolen from the pastor: his Social Security card, a fishing license, his driver's license and $80 cash.
If you recognize the thief, please call the Columbia County Sherif's Office at 706-541-2800.