THURSDAY NIGHT UPDATE FROM CORONER MARK BOWEN:
The Coroner's Office is investigating the shooting death of 20 year old Brenleigh Kitchens of the 4300 Blk. Aintree Rd.  Kitchens was shot at least one time and transported to Augusta University Medical Center by EMS where she died this afternoon.  Kitchens was pronounced dead at 5:45 p.m. Kitchens will be transported to the GBI Lab for a scheduled autopsy. The incident occurred 04/28/2021 @ 2141 hrs.
Earlier story:
Richmond County authorities have charged a woman's ex-boyfriend with shooting her in the face.
From the Richmond County Sheriff's Office: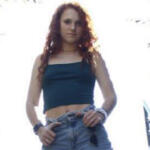 "The victim from the shooting incident last night on the 4300 Block of Aintree Rd is Brenleigh Kitchens (20 yoa, Hephzibah, GA)….  During the course of the investigation, the suspect was determined to be Kitchens' ex-boyfriend, Jaden Ross (20 yoa, Evans, GA). 
"RCSO Investigators, along with the assistance of the Columbia County Sheriff's Office, arrested Ross at his residence on the 1400 Block of Andover Court last night at 11:00 PM on the charges of Aggravated Assault (Family Violence) and Possession of a Firearm During the Commission of a Crime. 
"Additional charges may be forthcoming as the criminal investigation continues.  The booking photo for Jaden Ross has been attached and the Incident Report is unavailable at this time.  Any further details will be released once they become available."