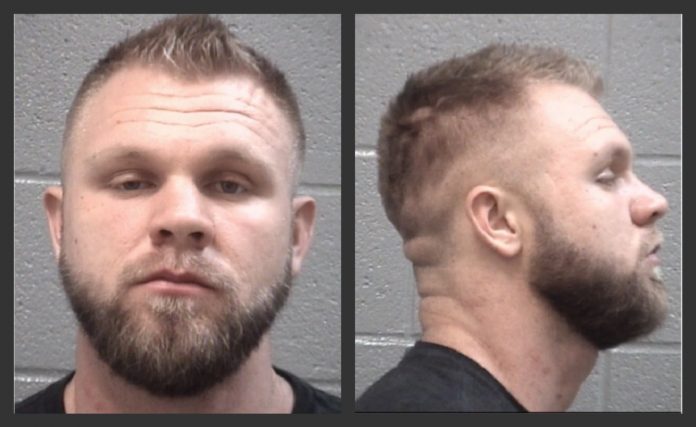 A Grovetown man who once worked as a sheriff's deputy was arrested Saturday for punching and stabbing a man during a dispute over a table at the Columbia County Amphitheater.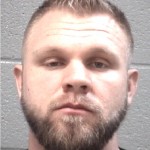 Barry Davis Jr., 26, was charged with battery and released on bond. He is a former deputy with the Richmond County Sheriff's Office.
His arrest came after a dispute at 11 a.m. Saturday at the amphitheater in Evans. Victim Christopher Jacobson (6′ tall, 210 pounds) told authorities that Davis (6'3″ tall, 253 pounds) tried to steal a table that he was setting up for a children's birthday party. He told Davis there was a sign that showed that pavilion was first-come, first serve. He asked Davis to move.
"Do you want to fight about it?" Davis allegedly responded.
Davis then pushed the 31-year-old victim repeatedly and punched him in the face. He then pulled out a knife and cut the victim's hand, a sheriff's report says. A citizen broke the fight up and Davis then ran into the woods.
Jacobson sustained a large cut on his hand and was taken to Augusta University Medical Center, where he require eight stitches.
The suspect's sister claims Jacobson approached her brother as Davis was setting up a table, told Davis the table was reserved and then tried to remove a table cloth. "Mr. Davis attempted to place it back when he was pushed by Mr. Jacobson," the sister told authorities, saying that Davis was acting in self-defense when the fight started.
Authorities say an impartial witness told deputies that she saw Davis walk up to Jacobson and began punching him so hard that the victim could not get up. The woman then saw something in the suspect's hand that appeared to cut the victim.
Davis told deputies that he ran into the woods "to get away from the situation and make a phone call," a report says.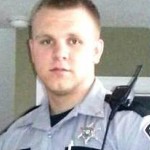 Background. Davis made news as a RCSO deputy in 2014 when he arrested WJBF Reporter Mike Miller at The Country Club in Augusta.
While ejecting the reporter from the bar, the special-duty officer says Miller tried to grab his taser and accidentally fell into a wall. Miller acknowledged drinking alcohol but denied grabbing the officer's taser. Miller said at the time that he felt the deputy used excessive force.
Miller suffered large cuts to his face in the fall and was arrested for disorderly conduct, but that charge was dismissed Feb. 3, 2015.
Davis has since left the sheriff's office and currently works as a "service advisor" at a local car dealership, according to a sheriff's report.