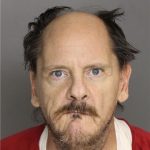 The Aiken man who was shot by a deputy during a confrontation two months ago has finally been booked into the jail.
Here's your first look at 49-year-old Gary Patton, who allegedly refused to drop two long guns and fired one of them March 15, authorities said. Patton was moved to the jail on Friday to face three counts each of attempted murder, weapon possession and pointing & presenting a firearm.
No officers were injured in the March confrontation on Colbert Bridge Road in Aiken.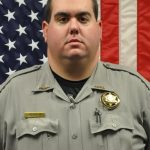 Deputy Richard Sullivan (pictured) joined two New Ellenton Police Officers in responding to a 911 call on Colbert Bridge Road for a domestic disturbance that day. Patton's elderly mother Batty Gene Patton told officers that her son was at the home with access to weapons.
"The officers observed the male suspect approaching down the driveway towards them with two long guns," authorities said. "The suspect did not respond to the officers orders to drop the guns and then fired one of the weapons. Subsequently the armed subject was shot by the responding deputy."
Patton was taken to the hospital for two gunshot wounds. The sheriff's office asked SLED to investigate the officer's decision to shoot.
For more crime news, pick up the current edition of The Jail Report, on stands now.