STATEMENT FROM CHILD'S MOTHER KELLI WILCOX: "My child was not unsupervised. The dog grabbed (his) face out of nowhere while playing fetch, which we did every single day. Every time I got him off of my son, he grabbed him again and ripped him from my arms over and over and over. I was right there to SAVE my child. Everyone is entitled to their opinion, my son is alive and that is all that matters to me right now.
"This was NOT a family dog. He was a foster who had recently been rescued, and was about to be placed in a forever home. Before the attack, he was playing fetch. Also, my strong baby boy never lost consciousness. He was extremely brave and stayed awake all the way up until surgery. He is doing amazing and he is my superman!!! Please keep my baby in your prayers."
ORIGINAL STORY:
North Augusta police say no charges are pending after a 5-year-old boy was attacked by the family's new pit bull on Halloween.
The child was in and out of consciousness Wednesday afternoon when authorities answered a 911 call to the family's home on Old Walnut Branch, according to a public safety report. The mother, Kellie Wilcox, said their new pit bull had attacked her son, ripping off the boy's ear.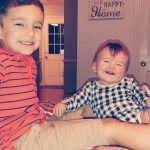 A Facebook page for the mother lists her older son's name as Easton. He is pictured here with his younger sibling.
"The victim appears to have multiple injuries and some significant injuries to both ears, eye and was in and out of consciousness," a public safety report says.
While the boy was rushed to Augusta University Hospital, animal control officers arrived and took custody of the pit bull, which was in the rear yard of the home separated by the rear door of the home. The pet was described as a "gray adult intact male pitbull."
The animal was impounded and quarantined. Also, authorities notified the S.C. Department of Health.
A GoFundMe page (link here) has been set up with this message: "On Halloween night, Easton (my Godson) was viciously attacked by a dog this afternoon and will be in surgery for majority of the night. He is alive and that's what matters right now. He has lost an ear, and a lot of surgeries ahead. There will be a lot of therapy that follows this. Kellie is a single mother of two and while she will never ask for anything, will need help in covering these medical costs that are just beginning. Please give what you can and if nothing then definitely your prayers for this sweet boy."