A 69-year-old Bath man was killed Saturday morning on Silver Bluff Road while headed on a hunting trip with his son, authorities said.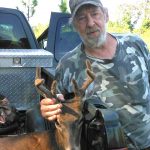 Daniel Lewallen was driving his 2002 Ford F150 on Storm Branch Road in Aiken just before 7 a.m. Saturday. As he approached Silver Bluff Road, Lewallen "failed to stop at the stop sign, crossed over Silver Bluff Road and struck a large tree," according to Coroner Tim Carlton.
Lewallen was pronounced dead on the scene. His son was transported to Augusta University Medical Center with unknown injuries. The son's name and condition were not available, the coroner said.
"The Aiken County Coroner's Office and the South Carolina Highway Patrol are investigating the crash," the coroner said in a press release. "Toxicology is pending."
The Jail Report reminds you to please be safe on the roads this holiday weekend!
For more local news, pick up the current edition of The Jail Report, sold in local gas stations.