A deputy court clerk in Richmond County was charged Tuesday with stealing over $1,000 in fines paid to the Magistrate Court Clerk's Office.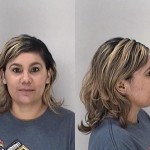 Estela Figueroa, 46, of Andorra Drive, Hephzibah, was arrested on a felony charge of theft by taking. She has since been released on bond.
Figueora has worked as deputy court clerk since 2010, but she was fired Friday after confessing to taking the money, according to Vickie Hester, Clerk of Civil and Magistrate Court.
Specifically, the clerk is accused of stealing the fines paid by four people who were cited for disorderly conduct. The four people had paid the fines at the courthouse at 735 James Brown Boulevard. This occurred four different times from December 2015 to April 2016.  A total of $1,140 was taken, according to a sheriff's report.
Those who paid the fines had their payments credited without any problem, Hester said.
"They are listed as being paid, and the folders even state that they paid," Hester told The Jail Report. "She would create a receipt, then she would void the receipt and take the money. But the paperwork shows that they are paid."
Hester said she discovered the theft April 28 when Sentinel Offender Monitoring Services called to ask whether a specific person had paid their fine. The folder showed they had paid the fine but there was also a void receipt.
Asked about the discrepancy, Figueora she said she couldn't remember. Then others were found and she confessed when confronted, Hester said. She was charged with a felony since the theft involved government property.
According to county records, Figueora was hired in February 2010 and was promoted several times, finally earning the title of Deputy Court Clerk IV with an annual salary of $30,668.
(For more crime news, pick up this week's Jail Report, sold in local gas stations for $1.50.)