The fourth murder suspect in Monday's Augusta slaying of Gerald Waldon has been captured. Tareke Collins has been arrested, authorities said.
Original Story:
Richmond County authorities have arrested three people and are trying to find a fourth person in Monday's shooting death of a man in Walton Acres.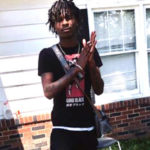 Devonta Devine, 23, of Augusta, Oceania Snelling, 18, of Augusta, and Tyasia White, 18, of Hephzibah, have been charged with the murder in connection with the death of 22-year-old Gerald Waldon. Investigators are still searching for 18-year-old Tareke Collins, of Augusta, who is also wanted for murder.
On Monday morning, deputies located the victim at the intersection of Walton Acres Drive and Fox Den Road. Waldon, who has an address on Spirit Creek Road in Hephzibah, had been shot to death.
The sheriff's office did not release a possible motive in the crime, leaving local residents to only guess at the reasons for the deadly violence in the area.