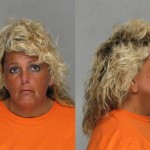 UPDATE: Autopsy results were returned from the GBI on Tuesday (May 3) on Debra Leverett who died Sunday in the Charles B. Webster Detention Center. The cause of death is Peritonitis due to non traumatic gastric perforation. The manner of death is natural.
More information on Peritonitis: http://www.healthline.com/health/peritonitis#Overview1
Original story:
The GBI is investigating the death of female inmate at the Richmond County Jail, but authorities say it will NOT be a suicide.
Debra Leverett, 50, of Fairway Drive, Augusta, (pictured) had some medical issues that may explain her death on Sunday, authorities said. She has been held at the jail since her arrest March 30 for entering an automobile to commit theft. Because she was on probation for five years for a 2012 drug conviction, she was also put on hold for probation violation.
At 7:30 a.m. Sunday, deputies found Leverett unresponsive inside her cell at the Charles B. Webster Detention Center, according to Pat Morgan with the Georgia Bureau of Investigation. The coroner's office pronounced her dead within the hour at the jail.
The sheriff's office immediately asked the GBI to come in and conduct an independent investigation.
"Leverett's body will be transported to the GBI Crime Lab in Decatur, where an autopsy will be performed," Morgan said in a press release. "The investigation is ongoing."
Her criminal record. Leverett was a customer at Palm Beach Tan on March 30 when she was accused of breaking into another customer's vehicle while the victim and a tanning store employee had gone to a convenience store to get a drink. Everett allegedly took a suitcase, make-up and a cell phone from the victim's vehicle, items that were recovered after a witness told deputies about seeing Leverett going through the car.
Leverett was serving five years of probation for a 2012 charge for illegal possession of prescription drugs. According to a report, deputies raided her home and found 140 Oxycodone pills, 700 Alprazolam pills and 50 Hydrocodone pills.
Because she was on probation during her March 30 arrest, she was being held at the jail longer for probation officials.
A former friend of the woman told The Jail Report that Leverett was known to clean houses but did not have a full-time job that he knew about.