The GBI has been called into investigate a domestic slaying in which an off-duty deputy shot another man in south Augusta, authorities said.
(UPDATED STORY HERE: http://bit.ly/1K22b0b)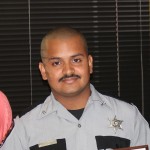 Deputy Allen Crispin (pictured) reportedly shot his estranged wife's friend during a confrontation on the 900 block of Horseshoe Road on Friday afternoon. The deceased man has been identified as 26-year-old Joshua Franklin Lee, who was shot twice, Chief Deputy Coroner Kenneth Boose Sr. said.
Sources say Crispin reportedly came to the home in the afternoon. The wife's friend walked out and started fighting, pulling a weapon on the off-duty cop. Crispin then shot the man two or three times, according to our sources.
In a Facebook post from April 2014, Sheriff Richard Roundtree presented the deputy with an award.
The caption on the post said this: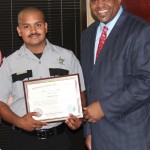 "While traveling to work at the detention center on the morning of March 27, 2014 at 5:15AM, Deputy Allen Crispin came upon a vehicle that had gone off of the road and into the woods along Mike Padgett Highway. Upon exiting his vehicle, Deputy Crispin found the victim, Alvin Lynch, trapped in his vehicle which was on fire. Deputy Crispin along with two others that were standing by pulled the victim from the burning vehicle. Once the victim was pulled from the vehicle, it burst into flames. Deputy Crispin also attended to the victim until EMS workers responded. He also assisted EMS workers as well as the deputies on the scene. Deputy Crispin went beyond the call of duty to save a citizen in need, and it shows the fortitude which the sheriff is asking of all deputies. If it were not for Deputy Crispin and the two bystanders, the victim would have perished in the vehicle."
 Stay tuned…