Federal marshals in Tennessee have hunted down murder suspect Darrel Lee Jr., who was wanted for shooting a man to death in March in broad daylight outside Fox Den Apartments in Augusta.
Lee was caught Monday in Clarksville, Tenn., and he will be held there until he is extradited to Augusta to face trial for allegedly killing 21-year-0ld Juwan T. Doby. He is charged with a felony count of murder and one felony count of possession of a firearm during the commission of a crime.
When Lee was caught, he had little hair, much different than his wanted poster that had much longer hair. The  mugshot shown above was taken Monday in Tennessee.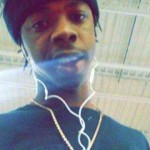 On March 28, Doby (pictured at right) was shot outside the apartments, and the coroner's office declared him dead on the 200 block of Fox Trace Drive.
Family and friends said the young man was about to become a father and had just learned his girlfriend was expecting a baby girl. A motive is not clear.
For more crime news, pick up this week's edition of The Jail Report. A new issue hits stands each Wednesday.