Authorities are investigating vandalism at the Richmond County Democrat Headquarters on Broad Street that read, "Bernie or We Burn It."
Community activist Terence Dicks reported the graffiti on April 9, according to a sheriff's report obtained by The Jail Report. The vandalism came just two days after the presidential candidate folded his campaign.
Dicks told deputies that he arrived at the business around 1:30 p.m. April 9 and noticed the window had been spray-painted. He said it must have occurred between 10 a.m. and 1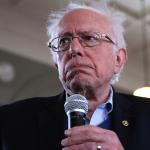 p.m. that day, a report says.
No other damage was reported. Dicks told deputies he planned to get in touch with the property owner and inform him of the incident. No arrest has been announced.
According to a CNN report, Sanders built a vibrant progressive movement advocating the biggest role for the state since the 1960s, in health care, education, business and environmental policy. "He gave voice on the left, as Donald Trump did on the right, to voters alienated by globalization and the school of free market economics defined by Ronald Reagan and Margaret Thatcher," the network said.
Did you know you can read The Jail Report on your phone or computer? Just go to thejailreport.com to download your copy for $2.00.