A Graniteville man was killed at a Trenton home Saturday night after being shot multiple times, authorities said.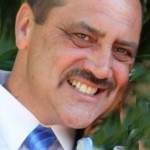 No arrest has been announced in the killing of 54-year-old Danny L. Greene (pictured).
While the victim has listed residence on Field Cemetery Road in Graniteville, authorities say he was shot and killed around 6 p.m. Saturday night at 304 Dragon Lair in Trenton.
"Mr. Greene was found at the residence shortly before 6 PM this evening and had sustained multiple gunshot wounds," Chief Deputy Coroner Darryl Ables said in a press release.
Friends of the family are already posting messages on Facebook remembering the man and comforting his adult children.
"Your dad was a character," wrote Judy Lee Gilmer to one of the victim's children. "Always made me laugh, he was so funny, and he was so proud of his family. He was a pretty great guy and we are all going to miss him..Continue to let him live thru you and your brothers… He made you boys the men you are today .. continue to make him proud."
Editor's Note: If you have a better photo of the victim or a memory of Danny Greene that you would like to share here, please text it to The Jail Report at 803-487-3224.