Shanna Swearingen racked up her 26th arrest in Aiken County on Friday for making false accusations against her child's grandfather, according to authorities.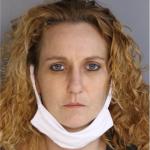 The Granitevile repeat offender contacted the Department of Social Services last month and claimed the grandfather of her 13-year-old daughter was being "sex trafficked," according to a sheriff's report. Social workers and deputies went to the child's home and discovered "nothing wrong with the living conditions of the household."
Authorities say Swearingen only called DSS in an attempt to see her child since the daughter's grandfather has custody of her. The grandfather previously adopted the girl from Swearingen, a report says.
Deputies also interviewed the child and found the sex trafficking claims to be unfounded with no indicators of mistreatment, a report says. The suspect also made similar claims in April with no supporting evidence.
Swearingen, 37, of Glasshouse Road, was charged Friday with knowingly making a false report of child abuse or neglect and trespassing. She remained in jail Monday morning.
The suspect has a history of arrests in the county dating back four years, including shoplifting, trespassing, giving false info to police, disorderly conduct, resisting arrest, unlawful communication, use of 911 unlawfully and malicious injury to personal property. Maybe she would have a chance at getting her daughter back if she stopped breaking the law.