A Graniteville teen was arrested Sunday for hiding his gun that accidentally killed a 2-year-old boy the night before in the Sage Creek community.
Zayalan Paige, 18, of Gentle Bend Court, was charged with obstruction of justice. He is already free on bond. Authorities say Paige hid the gun, possibly in a wooded area, after the shooting and before authorities arrived at his home to investigate the shooting.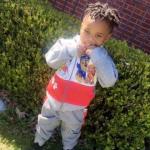 Jamarious Rogers, 2, accidentally fired a gun Saturday, shooting himself in the upper body. He was taken to Augusta University Medical Center, where he died just a few hours later at 11:32 p.m., the coroner said.
A sheriff's report reveals heat-breaking details on the death: Deputies responded to the home and found Timia Coates sitting on the ground in the roadway, holding her son in her arms. The child had a gunshot wound to his chest.
At the time, the teen suspect was frantically running around the scene, a report says. An officer asked him where the gun was, and he answered "that it was his gun and it's gone," the report says.
Authorities say Paige is not the father of the child but lived at the residence where the child was visiting. The homeowner is listed as Paige's mother, Felicia Paige.
The criminal investigation is ongoing, sheriff's Capt. Eric Ebdullah said.