An Evans teen claims she hunted down a classmate outside Poblano's restaurant on Sunday night and attacked her on video because the victim called her a "whale," according to a sheriff's report.
The "Mean Girl" antics played out in the parking lot of the Mexican restaurant around dinner time Sunday while one of the suspect's friends recorded it on video.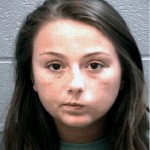 After it was all over, officers charged 17-year-old Bailie Walden with battery and booked her into the county jail. She and the victim know each other from attending Greenbrier High School. Walden is pictured above from Facebook and at right from her mugshot.
The victim, 17-year-old Mary Sydney Andrews, said Walden surprised her when she and a friend were leaving the restaurant at Evans Town Center. Walden allegedly punched Andrews, pushed her to the ground and continued hitting her. Eventually, Andrews' friend pulled Walden off of the victim.
The victim suffered a scrape to her elbow and a golf ball-sized bump behind her left ear. Andrews told authorities that Walden has been upset with her ever since she called her boyfriend and told him that Walden was cheating on him. Andrews is lifelong friends with the boyfriend, she said.
Andrews said Walden has been sending her threatening messages through SnapChat ever since she talked to her boyfriend.
When deputies contacted Walden to find out what happened, she was defensive, according to a sheriff's report.
"She stated that Mary told her boyfriend that she had an STD," the report says. "She went to Poblano's because Mary called her a whale. She pushed Mary to the ground but not to hurt her."
Deputies were shown the cell-phone video of the attack, which shows Walden running up to the victim and attacking her.
Walden, who works as a server at TakoSushi, was arrested and taken to jail. She has since been released on bond. A sheriff's report says the parents of all individuals were contacted about the incident.