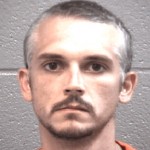 A Grovetown man attacked his girlfriend Sunday morning after she started getting emotional about her father's death, according to a sheriff's report.
"Stop being a whiny b***h!" abuse suspect Kevin Sizemore allegedly told his girlfriend.
Sizemore then dragged his girlfriend by the hair and pushed her out of their home, leaving the 30-year-old woman with red marks on her knees and the back of her feet, the report says.
The woman was able to call 911, and dispatchers heard him yelling and her crying during a physical altercation. A dispatcher heard the man say, "I'm going to f*** you up!"
When deputies arrived at the home on Old Louisville Road, the suspect was hiding in the woods behind the home. The victim was sitting outside.
The victim told authorities that her boyfriend suspected her of cheating and was upset that her pizza delivery job was causing wear and tear on her vehicle. But the assault occurred after she started talking about her father.
From the sheriff's report: "She was feeling upset with the death of her father and she was 'opening up' to Mr. Sizemore and she said he told her to stop being a whiny bitch. She said the altercation became physical and she said Mr. Sizemore told her, 'I`m going to f*** you up!' and drugged by her hair and pushed her out of the residence."
Sizemore, 31, confessed to authorities that they were fighting, saying that it escalated when he told his girlfriend he was going to leave her.
Sizemore was charged with battery – family violence and terroristic threats & acts. He was also charged with possession of Schedule II drugs when deputies found "illegal narcotics" in plain view in the house, a report says.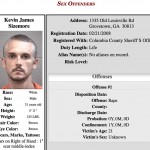 Sizemore is a registered sex offender, convicted of rape on a 21-year-old victim a decade ago. Click image for details.