The same Grovetown dad who was arrested in October for brutally beating his son is facing new charges related to his teen daughter.
   Michael Buckner, 38, has been charged with child molestation and sexual exploitation of children. He is accused of fondling his 16-year-old daughter and taking several pornographic photos of her, Grovetown Public Safety Sgt. Matthew Williamson said.
   Authorities say the father would punish his daughter for doing something wrong and then agree to "lower her sentence" if she let him fondle her, authorities said. It had been going on for several years, allegedly.
   Grovetown officials are also investigating the possibility Buckner may have been taking pornographic photos for years with both of his daughters, including the 13-year-old daughter.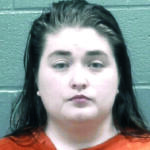 In October, Grovetown officers charged Buckner and his wife Amber Buckner after their son showed up at middle school with "lashing-type injuries" on his back. Both were charged with child cruelty.
   In that case, the 15-year-old boy arrived at Grovetown Middle School and started complaining about his back hurting. When asked about it, he told an officer, "I know if I mention or show you this, my dad will kill me."
   The victim then lifted up his shirt to reveal the injuries on his back, a report says.
   All three children have been placed with their maternal grandparents. Both parents are being held in the jail without bond.