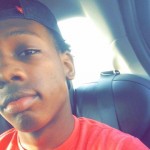 A Grovetown man fatally shot a 17-year-old teenager who snuck into his home early Saturday to see the man's 14-year-old daughter, authorities said.
Derrick Fulton has not been charged in the shooting death of 17-year-old Jordan Middleton (pictured), sheriff's Maj. Steve Morris said. The teenager had been invited in by the daughter.
"He thought it was an intruder. But no, she invited him in," Maj. Morris said. "And he bolted out of the closet. (Fulton) shot him once in the chest."
Maj. Morris called it an unfortunate incident: "Mr. Fulton obviously is remorseful. Everyone in the home was in shock at what had just occurred."
Authorities got the call at 2:47 a.m. Saturday for a burglary in progress on Coventry Avenue. Deputies arrived to find Jordan dead in the foyer at the home. He had a single gunshot wound to the chest.
The investigation revealed that Jordon went to the house to see a 14-year-old girl who snuck him in. Fulton heard some noise downstairs, retrieved his handgun from a dresser and went downstairs to investigate the noise.
The family dog began barking towards the guest bedroom which was located downstairs, and Fulton called out that he was armed and if there was someone in the house they needed to identify themselves. Fulton yelled out a warning again, authorities said.
"The dog continued to bark and act aggressive toward the guest bedroom. As Mr. Fulton entered the bedroom, Jordan ran out of the closet," Maj. Morris said. "Mr. Fulton fired one time, striking Jordon in the upper chest."
Jordan was a student at Grovetown High School. He lived in Grovetown with his mother and aunt.
Editor's Note: If you have a better photo of Jordan or a memory to share with our readers, please text it to 803-487-3224.