A senior football player at Grovetown High is accused of sexual battery on a 16-year-old female trainer at the school, according to a sheriff's report.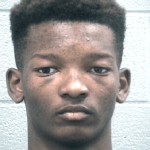 Kevon Avera, 17, of Lakewood Drive, Grovetown, was arrested last Wednesday for sexual battery.
A month ago, the girl's mother called the sheriff's office to report her daughter's allegations against Avera. She said her daughter claims Avera "grabbed her buttocks and breast while they were in the water room by the training room" on Nov. 6 at Grovetown High, a report says. The alleged victim also claimed Avera asked her to perform oral sex on him in the water room.
The daughter is identified in a report as a trainer for the football team, and the incident took place during football training.
Officers asked Avera about the claims and he denied everything. He said he was in the training room with the female student but nothing happened. A video surveillance system did not capture the training room or water room.
The sheriff's office did not pursue charges and told the mother how to obtain a warrant on her own. Last Wednesday, the girl's mother obtained a warrant and Avera was charged with the misdemeanor offense and booked at the jail.
For more crime news, pick up this week's edition of The Jail Report.