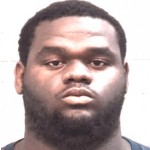 A Grovetown High senior was arrested last week after threatening to "shoot up the school" when a teacher asked him if he was looking forward to graduation.
De'jon Parker, 18, was charged last Thursday with terroristic threats and acts.
It was first thing in the morning when Parker stopped by the classroom of a language arts teacher.
"Are you looking forward to graduation?" the teacher asked.
"Yeah, I'm gonna shoot up the school," Parker allegedly replied.
The teacher expressed shock over the remark, and the student added, "Nah, only white people shoot up schools." He then laughed, according to a sheriff's report.
The teacher told authorities that she was in disbelief over the remark from Parker, a member of the GHS football team. She told the student to proceed to class and explained that she was required to report his comment.
As Parker left the classroom, he repeated in a loud voice, "I'm gonna shoot up the school!" Several students in the classroom gave statements that they had heard the student's remarks, a sheriff's report says.
Parker was arrested at school the same day.
We've reached out to the Columbia County School system for the outcome of the student's arrest. The Jail Report has asked whether the student will be banned from graduation.