A Grovetown man was shot to death Sunday night at Charlestowne South Apartments in Augusta, making him the 30th homicide in Richmond County this year.
DeVante Green, 24, of McCoys Creek Road, Grovetown, was pronounced dead at the Lumpkin Road complex at 7:35 p.m., Coroner Mark Bowen said in a press release.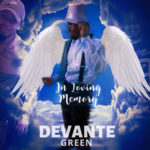 No suspects or motive have been released. His older sister Shantae Green said he was supposed to leave Monday morning for Savannah, where he had accepted a new job.
Here is what the sheriff's office released Sunday night on the Green killing:
"On Sunday October 13 at 6:48pm, Richmond County Deputies responded to the Charlestown South Apartments,  2119 Lumpkin Road in reference to residents hearing shots fired. Upon arrival they located a male victim deceased behind one of the apartment buildings.  Investigators have responded to the scene and are in the early stages of the investigation.  The victim has not been identified and there is no suspect description at this time. Nothing further at this time."
Green marks the 30th homicide this year in Richmond County, a count that includes two involuntary homicides and one justifiable homicide, according to the sheriff's office. A Facebook for Green says that he worked at Firestone Complete Auto Care and that he was from Costa Rica.
If you have a better photo or memory of DeVante to share, please text it to The Jail Report at 803-487-3224.
For more crime news, pick up the latest edition of The Jail Report. Here is the cover.