A Grovetown man called 911 to ask if he was wrong to cut a stray cat's throat for chasing squirrels on his property.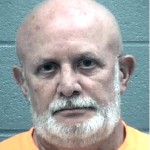 John Kiernan III, 72, of Perry Mill Circle, got his answer Sunday afternoon when deputies arrested him for aggravated cruelty to animals.
A deputy's incident report tells the disturbing details of the case:
"Kiernan called the Sheriff`s Office via phone in reference to a legal question about a killing a cat. When I returned Mr. Kiernan's phone call he stated there was a cat that had been chasing squirrels on his property and the cat had run up a tree and he killed it and wanted to know what his rights were. I advised Mr. Kiernan that Animal Control would have to respond to his house since the cat was deceased.
"I responded to Mr. Kiernan's residence with Animal Control. Mr. Kiernan stated he was seating inside his house and noticed a cat was in his tree chasing squirrels. Mr. Kiernan advised he went outside with a butcher knife from the kitchen and made a noise to get the cats attention at which time he grabbed the cat and cut the cat's throat letting it fall to the ground.
"Mr. Kiernan stated an unknown dog came along and ran away with the cat before I responded. Mr. Kiernan taken into custody and transported to CCDC. I presented the facts of the case to the Honorable Judge Hornsby, who issued a warrant for Aggravated Animal Cruelty (F)."
For more crime news, pick up the current edition of The Jail Report, sold in local gas stations for $1.75.