A Grovetown mother was arrested Saturday for child cruelty after she confessed to beating her 23-month-old son on the head in public, authorities said.
Witnesses called the police last Friday night after watching suspect Felicia Martinez strike her son while pushing a stroller on Bryan Circle, according to a Grovetown Public Safety report.
"She heard the lady cussing, yelling loudly as well as the baby crying loudly across the street from her," the report says. "She witnessed the lady strike the baby on top of the head while in the stroller. The lady then struck the baby two more times in the head and shoved the stroller into the roadway."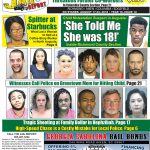 For more crime news, pick up the new issue of The Jail Report. Here is the cover.
The mother then continued walking down Bryan Circle. After speaking with the witness, Grovetown Officer Karlton Williams approached the mother, who appeared upset and disturbed.  She said she had lost her keys.
The suspect confessed to hitting the child on top of the head "for discipline," according to the police report. The mother defended her actions, saying the child was "acting out and reaching out to her."
The officer observed markings on the boy's face and head, with distinct bruising on the head. Officer Williams then called social service workers with DFACS.
A second witness later stepped forward to say she heard the child screaming and then witnessed Martinez "smack the child in the head" a few times. She also watched as the mother "shoved the stroller off the sidewalk," the report says.
The mother was later taken to jail on the child cruelty charge, which accuses her of causing excessive physical or mental pain.