Grovetown Police have found their nighttime bandit – and he's already in jail!
James Chatman, the 19-year-old gunman from the incident at Lynnbrook Way the other night, has been connected to multiple "entering auto" cases since the beginning of the year, authorities said Thursday.
"Through Grovetown's investigation we were able to connect Mr. Chatman, and the guns recovered by our investigators to several incidents that have occurred over the last couple months," Grovetown Public Safety Lt. Allison Foster said. "We are still hammering out the exact counts but there will be multiple charges to include entering autos and a stolen vehicle for certain."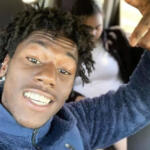 As you may recall, Aiken teen Tyreius Wakefield died last Thursday night and driver Raekwon Watson was shot in the leg in a bizarre series of events in Grovetown.
   Sources say it may have been a gun deal gone bad. But Chatman allegedly fired at Watson's 2006 Chevrolet Cobalt around 8 p.m. Thursday while the car was outside Chatman's home at 272 Lynbrook Way.
  When deputies found the victims' car on Chamblin Road at Sawmill Trail, Wakefield had no obvious wounds to explain why he was unresponsive.
     The 18-year-old male was later pronounced dead at Doctors Hospital. An autopsy will be done to help determine a possible cause of death.
    Watson, 24, was treated at the same hospital for his leg injury, which was clearly from the gunfire.
   A third person in the car, 21-year-old Shaunta Kemp of Aiken, was found walking out of the woods near the disabled car, and a gun was found near him. No injuries were reported on him.
   The Cobalt had two bullet holes in the rear bumper and one in the dash. A bullet also struck a rear passenger tire.   
   Chatman is being held in jail on three accounts of aggravated assault and weapon possession, according to GDPS. Lt. Allison Foster.