A Grovetown teenager who is awaiting trial for molesting children has injured multiple officers this week inside the Columbia County Jail, including one deputy who was sent to University Hospital.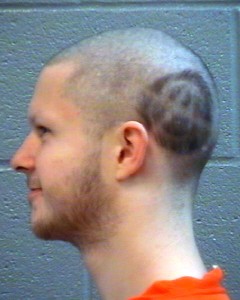 Matthew Timmerman, 19, was charged this week with two counts of willful obstruction of an officer, adding to a long list of crimes that include sexual battery against a child and enticing a child for indecent purposes.
The teen is accused of punching Deputy Kevin Roberson in the face Sunday night and struggling with several deputies who responded to the incident. Deputy Roberson went to the hospital with an injury to his right wrist. On Tuesday, he became violent again and officers were trying to put him in a restraint chair when he kicked Sgt. Travis Smith in the face.
"Sgt. Smith sustained a hard blow to the left side of his face and his face has already beginning to swell," a sheriff's report says. "He also had an abrasion to his right wrist with a small open cut."
Timmerman is a feisty youth with an Anarchy tattoo on his left arm, he shaved the Anarchy logo into his hair while in jail.
The teen has been in jail for 281 days after his October arrest last year for allegedly grabbing a girl's breasts and touching a boy's penis, authorities said. The teen's grandfather told authorities the boy had even "stuck his finger in a horse's vagina" and made sexual comments to his own mother.
A relative of the suspect told authorities that Timmerman may have been molested as a child and was forced to have sex with relatives, the sheriff's report says.