Another correctional officer has been busted at the Augusta State Medical Prison after she schemed to get cell phones to an inmate.
Jerianna Davis, 24, of Louisville, Ga., was arrested Friday for violation of oath by public officer as well as inmate possessing cellphone without consent of warden.
Another ASMP guard was arrested last month for smuggling in drugs.
Davis' alleged scheme was sneaky: She concealed multiple cell phones in a bathroom at Augusta State University Hospital, where the inmate had a scheduled doctor's visit on the afternoon of Feb. 10.
The plan unraveled quickly, and Superior Court Judge Daniel Craig issued warrants against her on Feb. 11.  She was arrested Friday, and she remained Monday night in the Richmond County Jail, unable to make a $27,700 bond.
The arrest comes a month after a guard at the same prison was arrested for smuggling in meth and marijuana.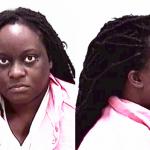 Keturah Dunbar, 33, of Augusta, was charged in January with meth trafficking, violation of oath by public officer, and two counts of crossing guard lines with drugs.
Dunbar allegedly came inside the medical prison with marijuana and methamphetamine while arriving for work, according to arrest warrants.
The warrant says she was bringing in the drugs to give to an inmate. Dunbar is free on bond.