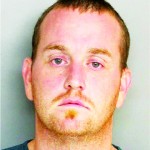 A shirtless, tattooed man drove off in a man's car at the Graniteville Road Quick Mart last Tuesday morning as the owner paid for gas.
Chester Parker, 31, of Aiken, was arrested a day later and charged with grand larceny, receiving stolen goods and driving under suspension, an Aiken County Sheriff's report said.
This is one of many stories in this week's issue of The Jail Report. Pick up your copy today at local gas stations.
Parker drove the Ford Fusion to his cousin's house on Connector Road. A woman at the house said Parker came over in a panic and demanded a change of clothes and her truck, the report said.
The woman told Parker that she couldn't have the truck but her boyfriend would give him a ride. The two men left and then she saw her boyfriend walking back. He told her that he didn't want to ride with Parker and gave him her truck, the report said.
Last Wednesday, a man spotted Parker driving the Fusion on Firewood Lane and knew he wasn't supposed to have the car. The man followed Parker who ditched the vehicle. He was arrested shortly after, the report said.