An Augusta teen was charged Saturday with harboring the suspect who was wanted in a gang-related double murder in Aiken County.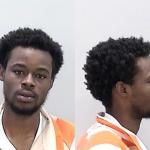 Neiko Lee'Aundre Lozoya, 19, is accused of letting suspect Anthony Henderson stay in his room at 131 Greene Street. An arrest warrant says he harbored or concealed a fugitive. He allowed him to "stay in his room while knowing he was wanted for murder in South Carolina," the warrant says
Henderson was wanted in connection with the Dec. 17 double murder on Kalmia Apartments Lane in Graniteville. That gang-related shooting claimed the life of a mother and her child, Mel'lisha Jackson, 26, and her 1-year-old son, Elijah Jackson. They were not the intended targets, authorities said.
Henderson, 18, was captured Saturday morning at Lozoya's place after an extensive search based on leads and citizen tips. Henderson was charged with two counts of murder and faces extradition to South Carolina. Two other suspects in the killings have not been captured.
For more crime news, pick up the latest edition of The Jail Report.