A 12-year-old Hephzibah girl went missing from her home Wednesday night, authorities said,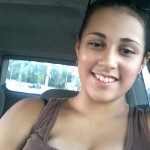 Authorities are asking for the public's help in finding Brianna Alexis Smalls. She is pictured here and described as 5'4″ tall and 130 pounds with shoulder-length black hair.
She went missing around 6:30 p.m. Wednesday from her home on the 3500 block of Buckner Drive, which is off Morgan Road.
If you have any information concerning this girl, please contact Investigator Lucas Heise or any Violent Crimes Investigator at the Richmond County Sheriff's Office at (706) 821-1026 or 821-1080.