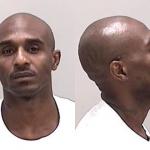 The boyfriend of mother Jasmine Camp has been arrested in connection with the death of Camp's son, 12-year-old Derrick Camp.
   Clarence Arkee Brown, 37, was charged him with Murder and Cruelty to Children 1st Degree (x4).
   The boy suffered tremendously under the couple's watch, according to arrest warrants. Camp is accused of striking the victim multiple times with an extension cord all over his body, slamming him into the wall at least twice causing his head to hit a wall, throwing him into a corner of a door frame by his hair, and kicking him in the chest twice. He died Sunday night after being taken to the hospital.
   Camp is also charged with murder and child cruelty.
Original Story:
A Hephzibah boy has died and his mother is in jail for brutally beating him, according to a sheriff's report.
Jasmine Camp, 32, of Claymont Road, Hephzibah, was charged Sunday with cruelty to children in the first degree. Upgraded charges are likely.
From Coroner Mark Bowen: "The Coroner's Office is investigating the death of 12 year old Derrick Camp. Camp of the 600 Blk Forest Ridge Place was transported to Augusta University Medical Center by EMS.  Camp was pronounced dead at 9:22 p.m. Sunday. Camp suffered a head injury and had several noted healing injuries. This case is being handled as a homicide.  Camp has been sent to the GBI for an autopsy."
Jasmine Camp confessed to the beating of her 12-year-old son with a belt after discovering nude selfies on his cellular device. But it's not clear if the whipping was the cause of his hospitalization.
The boy was unconscious and vomiting Saturday night when his mother called for help, a sheriff's report says.  The mother told authorities this bizarre story:
On Saturday afternoon, she discovered nude photos of her son on his cellular device.
"Jasmine stated she punished Derrick by whipping him on his legs with a belt. Jasmine further stated she continued to punish Derrick by making him do squats against a wall for thirty minutes. Jasmine stated if he failed to maintain that position during those thirty minutes, he would have to start over from the beginning," the report says.
Later, she said her son claimed to have fallen off his bunk bed, leaving him with a bump and blood on the left side of his head. She said she observed his chest start to swell and could hear a rattling noise coming from his chest. He was not responding to her or reacting an old inhaler she gave him. So she started blowing air from her mouth to his mouth. When brown and red fluids came out of his mouth, she sought help from a neighbor.
An EMS met them halfway on their trip to the hospital, and the boy was taken to AUMC. The boy had no cardiac activity upon his arrival and his eyes were dilated. Authorities observed welts and bruising all over the boy's body and a laceration to the left side of his head.
A doctor said the boy was covered in loophole marks that were consistent with Jasmine's statement of beating her son with a belt. The child also suffered a laceration to his left ear and he had blood blisters on his right hand.
The physician said Sunday that Derrick's status was critical, and he was on life support with a ventilator. But he later died.