A Hephzibah mom was arrested Sunday for child cruelty after her 1- and 3-year-old sons were hospitalized for violent slaps to their faces, authorities said.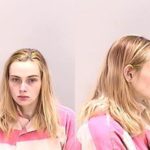 Brittany Lee Judy, 22, of Old Waynesboro Road, is accused of slapping the 1-year-old boy with the back of her hand, leaving a 5-inch bruise requiring treatment at Augusta University Medical Center. She also struck her 3-year-old son on his face and eye with an open hand, leaving him with a bruise and a contusion to the eyelid, according to arrest warrants.
   Both incidents reportedly happened around midnight on Sept. 9, and an investigation led to her arrest Sunday. She was charged with two counts of cruelty to children in the second degree.
   A Facebook page for Judy indicates that she has a third child, an infant.
   For more crime news, pick up the latest edition of The Jail Report, sold in local gas stations.