A Hephzibah teen died Sunday from injuries suffered when he was stabbed two days before during a big fight on Chaps Lane, authorities said.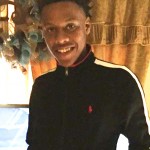 Demajhay Bell, 18 (pictured), died at 10:37 a.m. Sunday at Augusta University Medical Center, according to Richmond County Coroner Mark Bowen.
The Richmond County Sheriff's Office is not releasing any information on the crime or possible suspects, telling reporters to check back Monday.
WRDW-TV reported that a large group had gathered to fight at 2206 Chaps Lane on Friday afternoon and deputies discovered that Bell had been stabbed in the neck. He tried to drive himself to the hospital and was found on Morgan Road. He remained in critical condition until his death Sunday.
Authorities told the TV station that another victim, Demetrion Harris, was also struck several times on the left arm with a baseball bat and was taken by ambulance to the hospital.
Friends and family have already begin mourning Bell on Facebook. Some comments:
Jammer Bingham: "Today was a rough day. The Augusta Strike Force family lost a brother,son,and friend. Despite the obvious, they still stuck it out in a battle down to the wire. We lost but

Demajhay

Bell your brothers represented well for you my brother. Young man you are already missed and loved by so many. I've known u a very short time but it feels like 4ever. Until we meet again young man!"
Cierra Cross: "R.I.P.

Demajhay

, I'll never forget them Spirit Creek days! Fly high baby boy."
Regina Wright: "I was just telling Jasmin Lewis if

Demajhay

… would of play basketball at Hephzibah they would have put Hephzibah boys on the map. #RIP #DEMAJHAY"
Note: If you have a memory or photo of Demajhay that you want to share, text it to 803-487-3224 or email it to [email protected]