A Waynesboro man who investigates officers for Georgia P.O.S.T. was arrested this week for animal cruelty, accused of killing hogs while hunting in Hephzibah.
William Mark Newsome, 47, of Pine Street, surrendered on Wednesday on a misdemeanor count of animal cruelty for the November killings in Richmond County. He is an investigator for the Georgia Peace Officer Standards and Training Council.
According to hog owner Robert Buchwitz of Hephzibah, the suspect's mother-in-law owns 50 acres next to Buchwitz's property, right near the Richmond-Burke border. The victim said a thunderstorm led to problems with his gates and his hogs got out Nov. 30.
"(Newsome) said they were messing up his deer hunting and eating his deer corn," Buchwitz said. "You can't just kill someone's livestock. You are supposed to call the sheriff's office."
Buchwitz said he has 14 hogs missing, but they only found 10 carcasses, some with heads missing and most of them shot multiple times. He also claims that Newsome didn't bury them within 24 hours as required by law.
As a result of the killings, Buchwitz lost 7,000 to 8,000 pounds of meat, he said. The hogs were Berkshire, large black and Tamworth. He spent $120 a week on hog feeding.
Newsome could not be reached for comment and didn't respond immediately to a voice mail left on his office phone. As an agent assigned to the Investigations Division, Newsome looks into the involuntary terminations of officers, suspensions of more than 30 day, and alleged criminal involvement of any officer. The investigator then makes a report to P.O.S.T. (Story continues below)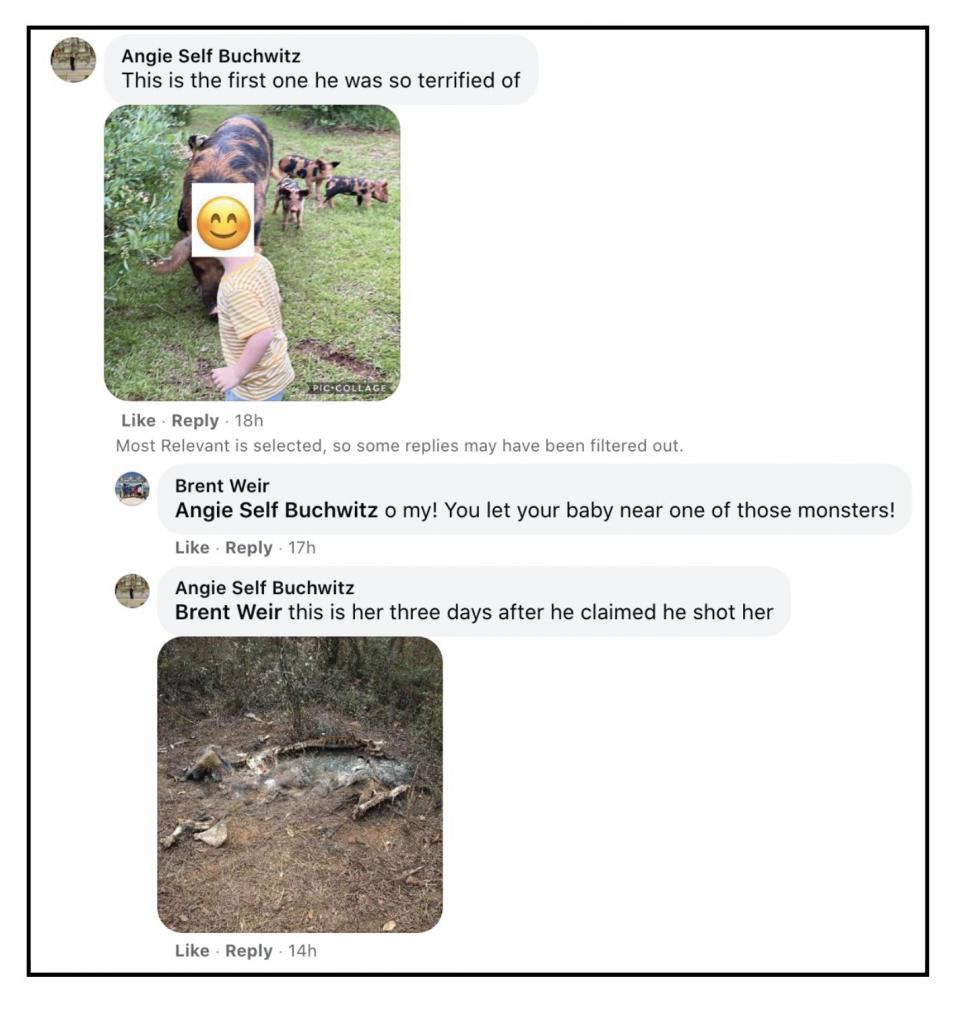 The victim says the animal cruelty case was investigated by the Hephzibah Police Department, Richmond County Animal Control and the Georgia Department of Agriculture.
Buchwitz said that Newsome claims the hogs were eating his deer corn and destroying property and roads, rooting up areas the size of football fields. But state officials found none of that damage, the victim said.
"And, yes, he would say they were bothering him," Buchwitz said. "But in the state of Georgia, you still don't have a right to kill livestock. He didn't file a report with anyone. .. or make a call to authorities or file a complaint. He sent me an email, probably about six months before. He said his attorney instructed him to kill any and all hogs he saw."
Buchwitz also disputes claims that Newsome was scared of the hogs, which can't be true since he killed them over a long period of time and shot 30-40 rounds.
"You can't go deer hunting with 30-40 rounds," Buchwitz said. "He had to reload it 7-8 times."
What does Buchwitz want from the arrest? He wants reimbursement for his livestock and for Newsome to quit hunting on that property. The killings effectively put Buchwitz out of business temporarily since he makes sausage and sells hog meat on a private label. He also makes breakfast every Saturday and Sunday morning for police and firefighters in Hephzibah.
The Hephzibah landowner also questions Newsome's continued employment with P.O.S.T.
"I don't know if someone that irresponsible should be investing police officers and their wrongdoing," he said. "I don't want to see anyone lose their job, but maybe they could find something else for him to do."
Meanwhile, Buchwitz has worked on securing his livestock better.
"I tried to keep the hogs shut up, but they would get out," he said. "I never denied that. At the end of the day, he should have filed some kind of report. He's in law enforcement, and especially being the guard over law enforcement. At some point, ignorance of the law is no excuse."