Richmond County investigators made a quick arrest in the overnight killing of a man at Fox Den Apartments.
Fitz Kenny Williams, 27, was charged Tuesday in connection with the midnight murder of Jamie "Moonie" Owens. He is shown here in an old mugshot.
Williams is being booked on charges of murder and weapon possession. Authorities say the shooting death occurred after an argument between the suspect and victim.
Owens (pictured at right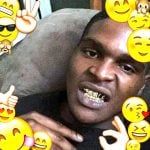 ) was found shot to death after midnight Tuesday at Fox Den Apartments. According to a press release, sheriff's office personnel were flagged down at 12:21 a.m. Tuesday on the 300 block of Fox Trace Drive. Someone had found the victim lying on the ground.