Edgefield County authorities say an Aiken man has surrendered on a murder charge in connection with the shooting death of his wife.
Michael Tirrell Means is being booked for murder Friday morning. His wife was found shot to death overnight Wednesday along Highway 191 in Edgefield County.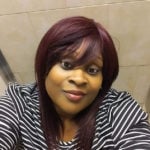 Yumonica Means, 46, of Aiken (pictured from Facebook), was found deceased. A vehicle was reportedly found nearby but she was not inside it.
Edgefield County Sheriff's officials were searching for a silver 2016 Kia Soul with South Carolina tag NFX912, according to Cpl. R.B. Carter. Michael Means, 37, was believed to be driving that car and was being sought on an arrest warrant for murder, Cpl. Carter said.