Here are the low-life shoplifters who ran from the Aiken Belk store last Tuesday after one of them pepper-sprayed a store associate, according to authorities.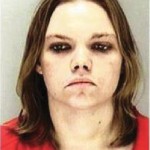 Now, Aiken police need your help in finding them. They are Katrina Erica Galloway, 29 and Darryl Rae Smith, 42. Both individuals are wanted for assault and battery and Smith is wanted for shoplifting.
Last Tuesday afternoon, Smith entered the Belk's Department store on Whiskey Road. He shoplifted merchandise, and was confronted by a loss prevention associate, authorities said. Upon being confronted by the loss prevention associate, Galloway allegedly assaulted the loss prevention associate by pepper spraying them. After the assault, the suspects ran.
"The Aiken Department of Public Safety would like to thank the numerous citizens who provided information related to the identity of both individuals," a press release says.
Anyone with information to the whereabouts of Mr. Smith and Ms. Galloway is asked to contact CrimeStoppers of the Midlands at 888-CRIME-SC (888-274-6372). Individuals will remain anonymous and could be eligible for a cash reward of up to $1,000.