An illegal alien is being held for Immigration officials after his arrest for allegedly sexually assaulting a 14-year-old girl in North Augusta, authorities said.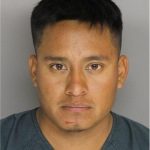 Jose Alvarez Lopez, 26, of Hyacinth Way, North Augusta, was charged Monday with two counts of criminal sexual conduct with a minor, according to jail records.
According to warrants, Lopez had sexual intercourse with the girl "with the intent of arousing, appealing to, or gratifying the lust, passions or sexual desires of himself or the victim," the warrant says.
Authorities would not say where the sex act occurred or how the suspect came into contact with the victim. The case remains under investigation, sheriff's Sgt. Steve Shunn said.
Lopez remained in the Aiken County Detention Center on Tuesday, where he had a hold for Immigration and Customs Enforcement (ICE) officials.
For more crime news, pick up the current edition of The Jail Report, sold in local gas stations. Click on the image to see the front cover.